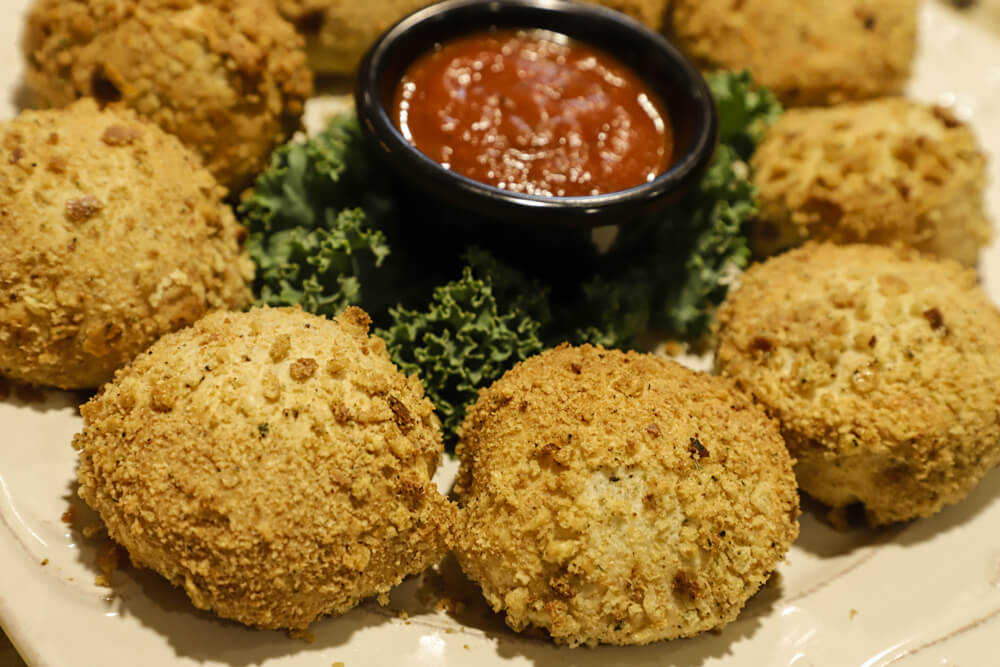 No Name® Meatball Poppers
Fun to eat, kid-friendly coated No Name®meatballs on a stick!
Prep time 15 min
Total time 30 min
Ingredients 7
Servings 10
Steps
Heat oven to 375°F. Line cookie sheet with parchment paper, or spray with no-stick cooking spray. Separate dough into 5 biscuits. Split each biscuit to make 10 pieces. Press out each biscuit half to form 3-inch round.
Sprinkle each biscuit round with cheese to within 1/2 inch of edge. Top each with meatball.
Bring up sides of dough over meatball; pinch edges to seal. Brush rounded tops and sides of dough with butter; coat with croutons.
Place, seam side down, on cookie sheet.
Bake 10 to 15 minutes or until golden brown.
Heat pasta sauce.
Place appetizer pick/long toothpick in each biscuit-wrapped meatball to form meatball pop. Serve with warm pasta sauce for dipping.
®Pillsbury is a registered trademark of General Mills
®No Name is a registered trademark of J&B Group
Adapted from recipe from Alyssa DeSantis, Courtdale, Pennsylvania
Ingredients
1 can (10.2 oz) refrigerated buttermilk biscuits (Pillsbury®or store brand will work)
1/3 cup shredded Monterey Jack or Cheddar cheese
10 No Name®Original meatballs, thawed
1/4 cup butter, melted
2/3 cup finely crushed seasoned croutons
10  large appetizer picks or lollipop sticks, if desired
1½ cups tomato pasta sauce, heated