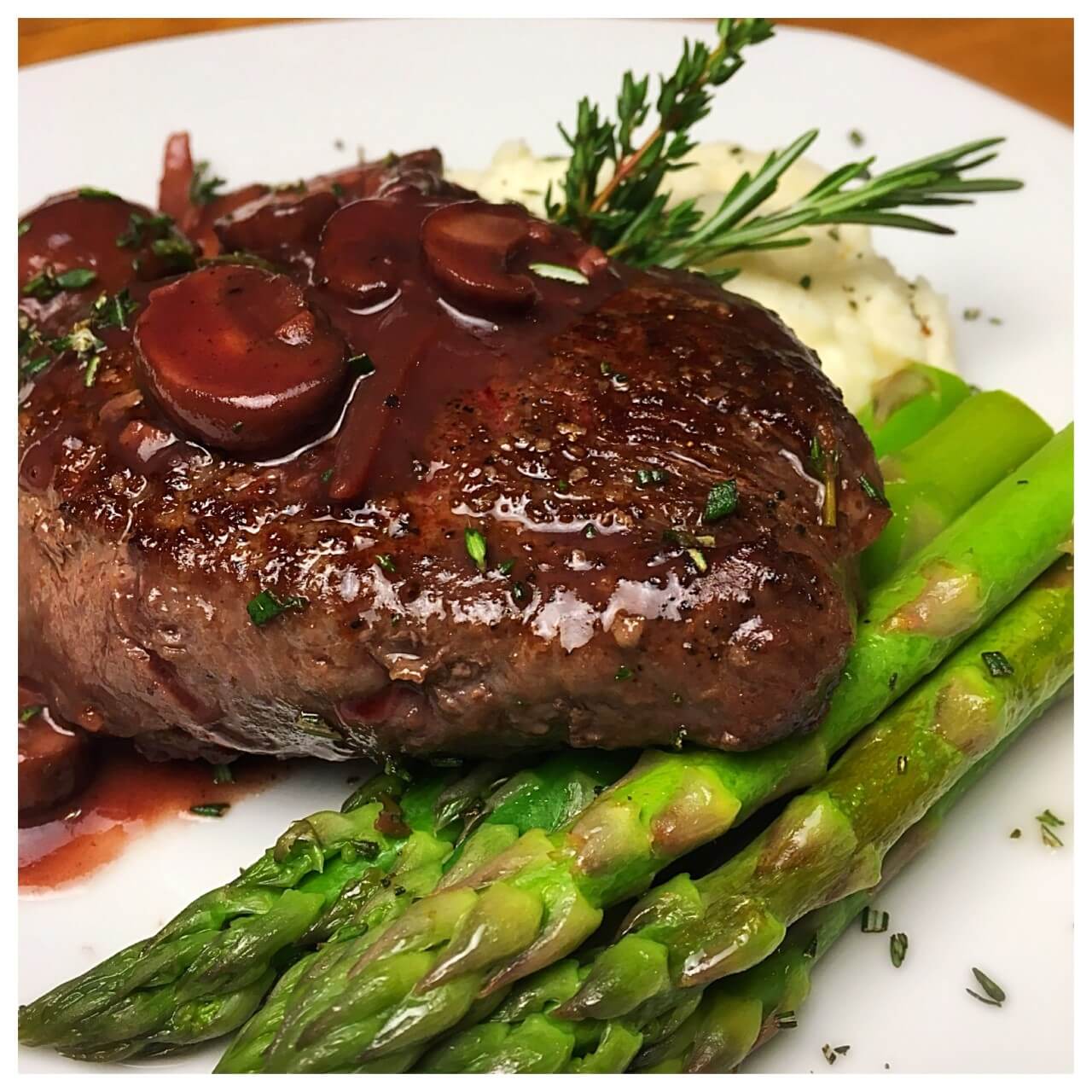 Cast-Iron Skillet Steak with Red Wine and Mushroom Pan Sauce
Intro:  Winer months call for delicious recipes that stick to your ribs.  Lack of sunshine gives us an excuse to indulge, and No Name Brand Original Steaks are there for when you do!  Grab that cast-iron skillet and get your sear on.  Pan searing a steak is one of the best ways to cook it as it maximizes caramelization and locks in juices.  We can take even more advantage of this cooking style by making a pan sauce.  Pan sauces harness all of that meaty goodness left in the pan after cooking and transfer it into your finished dish.  They are so simple, but elegant and a classic French cooking technique.  You didn't realize how good of a cook you were! Simple and Delicious with No Name.
Instructions
Season your No Name Brand Original Steaks well with salt and pepper. The Black Pepper is really where you get great flavor on a seared steak, so don't be shy!
Place your skillet on the burner and pre-heat the pan on high while it is still empty for about 1 minute. The thicker the pan, the longer it will take to pre-heat.  Hot pans are required for great steak.  Also, now is a good time to make sure your exhaust fan is on!
Carefully add the oil and swirl it around. Add your steaks and let them cook on one side without moving for 2 minutes.  Keep the heat up high! Flip the steaks and cook an additional 2-3 minutes on the opposite side.  Remove the steaks and let them rest on a plate nearby.
Add your butter to the empty steak pan. Swirl to melt and add your mushrooms, onions, garlic and sprigs of thyme and rosemary. Cook the vegetables for 3-4 minutes on high, or until browning occurs.  Scrape the bottom of the pan as you stir the vegetables, releasing all the little flavorful bits of steak that are left from searing the beef into the mushrooms and onions.
Once they are soft, sprinkle the flour over the mushrooms and onions and stir quickly to incorporate. Add the red wine and stir.  The sauce should start to get thick.
Add the beef broth and stir. Place the steaks back into the sauce and reduce the heat to low.  Continue to cook the steaks in the sauce to your desired level of doneness. Add salt and pepper and remove the rosemary and thyme sprigs.
To serve, place the steak on the plate and spoon the sauce over the steak. Serve with your favorite steamed vegetables and mashed potatoes for a fantastic winter meal.
Enjoy!
No cast-iron?  No problem.  Any metal skillet will do.  And leave your non-stick pan in the cupboard.  Contact with hot metal is what makes for great caramelization.
Ingredients
2 each No Name Brand Original Steaks, defrosted and seasoned well with salt and fresh ground black pepper
3 tbsp. Canola Oil or Vegetable Oil (No olive oil.  It will burn on high heat.)
2 tbsp. Butter
2 Cups Fresh Mushrooms, sliced
½ Cup Onions, slivered to ¼" thick
1 tsp Garlic, minced (fresh if possible)
1 sprig plus 1 tsp Fresh Rosemary, minced
1 sprig plus 1 tsp Fresh Thyme, minced
2 tbsp. Flour
1 Cup Dry Red Wine
1 Cup Low Sodium Beef Stock
Salt and pepper to your liking