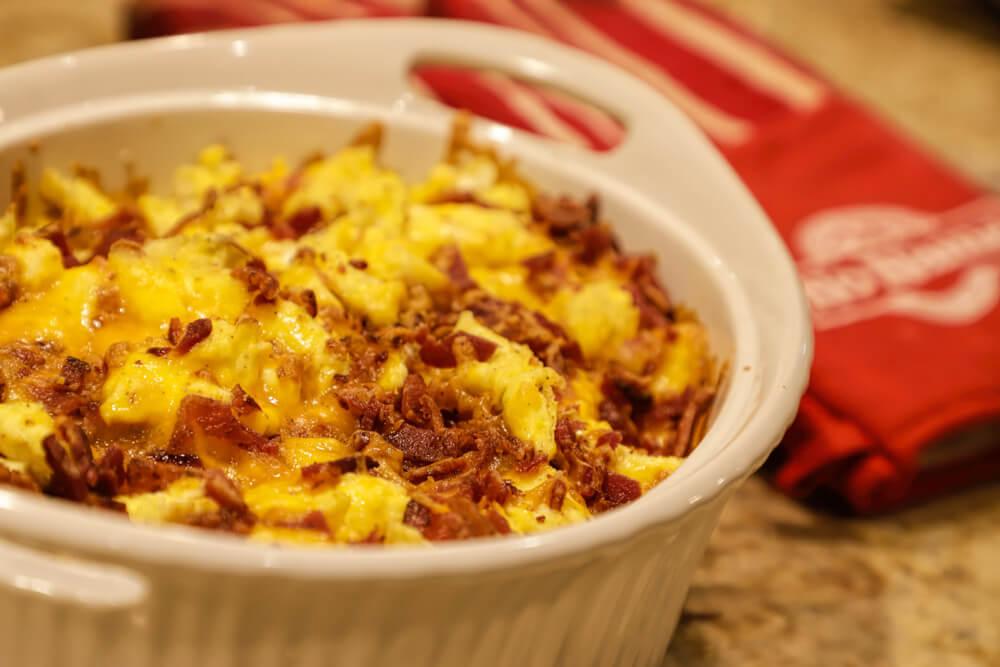 Cheesy No Name® Bacon & Egg Scramble
Instructions:
In a large skillet, prepare hash browns according to package directions.
Sprinkle with garlic salt and pepper.
Transfer to a greased 2 ½ qt. baking dish.
Top with soup.
Set aside ½ cup of No Name Bacon; sprinkle remaining bacon over soup.
In another skillet, scramble eggs in butter until nearly set.
Spoon over No Name Bacon.
Sprinkle with cheese and reserved bacon.
Bake, uncovered, at 350 degrees for 20-25 minutes or until cheese is melted.
Yield 10-12 servings.
Ingredients:
1 pkg. (28 oz.) frozen hash brown potatoes
½ tsp. garlic salt
¼ tsp. pepper
1 can (10 ¾ oz.) condensed cheddar cheese soup, undiluted
1 lb. No Name® Hickory Bacon (or No Name Steak), cooked and crumbled/cut up into small chunks
12 eggs lightly beaten
2 tbsp. butter
2 cups (8 oz.) shredded cheddar cheese