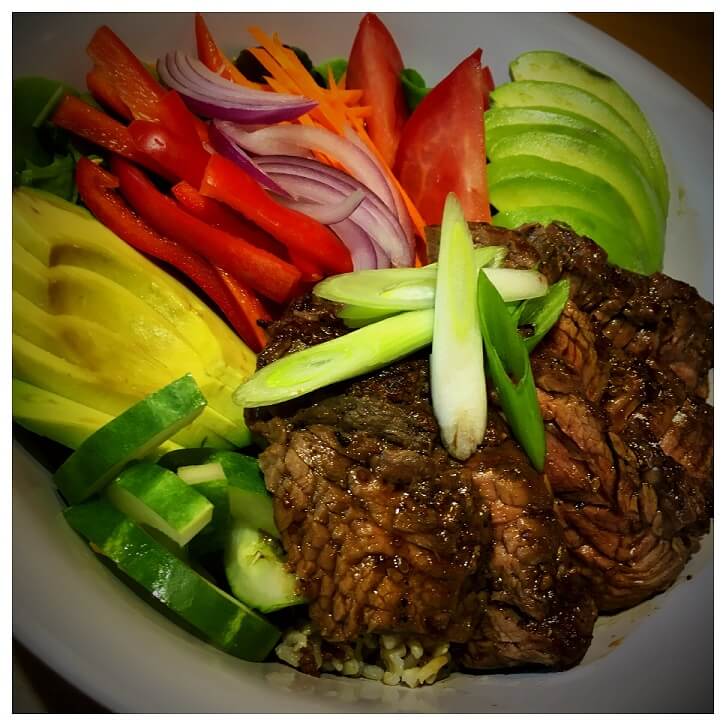 NO NAME® Fast, Fresh and Healthy: Teriyaki Steak Buddha Bowl
Serves 1
No Name Original Steak Preparation:
Combine all ingredients in a bowl with the steak and mix well. Place in the refrigerator and allow to marinate for 20 minutes.
Cook the marinated steak in the oven, on the stove or on the grill according to package instructions.
Prepare the Buddha Bowl:
In a large salad bowl, place one cup of your favorite cooked grain.
Top with your favorite salad greens and fresh toppings – there is no wrong answer here!
Slice your marinated, cooked No Name Brand Original Steak and place it on top of the bowl.
Drizzle your favorite bottled Asian Salad Dressing over the bowl and enjoy!
Ingredients:
1 No Name Brand Original Steak
2 tbsp. soy sauce
1 tbsp. sesame oil
2 tbsp. lemon juice
1 tbsp. sugar
pinch of garlic powder
pinch of ground ginger
pinch of ground black pepper
Optional:
Buddha Bowl Suggestions:
1 cup your favorite cooked grain – brown rice, quinoa, farro, wild rice, white rice, etc.
fresh tomatoes
sliced avocado
sweet red onions
shredded carrots
fresh spinach
sliced cucumber
slivered green onions
snow pea pods
cut red bell peppers
anything else you desire – it's your bowl!
top with your favorite bottled Asian dressing