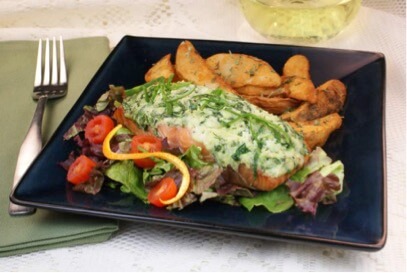 No Name® Salmon with Spinach & Ricotta
Directions:
Mix together the fresh spinach, ricotta cheese, fontinella cheese, dill, salt & pepper.
Place a generous amount of the spinach & cheese mixture on top of each piece of salmon.
Gently pat the mixture into place on top of the salmon.
Place the salmon in a 375 degree oven and bake for 15-20 minutes.
Ingredients:
2 pcs. No Name Salmon Filet – 5-6 oz. each (fresh or thawed)
1 cup Fresh Spinach – finely chopped
½ cup Ricotta Cheese
2 tbsp. Fontinella Cheese – shredded
1 ½ tsp. Fresh Dill – chopped
½ tsp. Kosher Salt
¼ tsp. Black Pepper