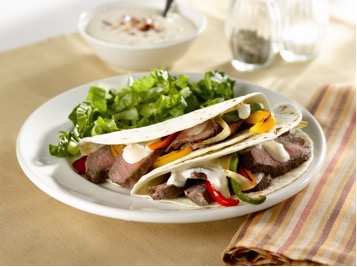 No Name® Steak Fajitas with Bacon Cheddar Ranch Sauce
Directions:
Season the steaks with the fajita seasoning.
Heat a grill pan or a sauté pan and sear steaks well on each side.
Cook steaks until they are done as you like and set aside while you sauté the vegetables.
Mix the Ranch dressing, bacon and cheddar cheese together in a bowl.
Slice the steak into thin slices and serve with warmed tortillas and the bacon cheddar ranch sauce.
Quick Tip:
If you are in a hurry, slice the steak before cooking, toss in the fajita seasoning and sauté in a hot skillet until just
cooked through.
Variations:
Make a steak fajita salad by skipping the tortillas, and topping crisp shredded lettuce with the steak slices.
Drizzle with the Ranch Dressing and serve with tortilla chips.
Serves 4   |   Preparation time: 10 minutes   |   Cooking time: 10-20 minutes
Ingredients:
2 No Name® Original Steaks, thawed
1 strip No Name® Thick-sliced Bacon, cooked and finely chopped
½ package Taco or Fajita Seasoning
2 cups Pre-cut Fajita Vegetables, (found in the produce section)
 ½ cup Prepared Ranch Dressing
¼ cup Mexican Cheese Blend, shredded
8 (6″) Flour Tortillas