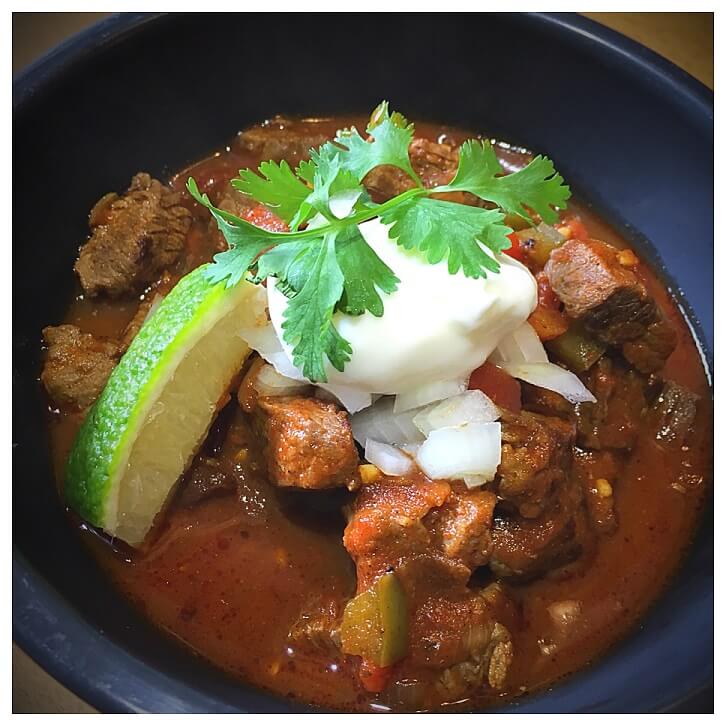 NO NAME® Texas Style Chili
Fall means a return to football!  While we won't say who our favorite team is, this Texas Style Chili is sure to be a fan favorite for everyone. With no beans involved, Texas chili is all about STEAK.  No Name Brand Original Steaks make a great base for this American classic.  Make this recipe on Saturday, the day before the big game.  Then reheat on Sunday in a crock pot and keep warm.  Your buddies can help themselves and you won't miss a minute of Football!
No Name Original Steak Preparation:
In a large, heavy bottomed pot or Dutch oven, heat the Vegetable oil.
Brown the diced No Name Brand Original Steaks in the pot in batches, making sure beef gets well caramelized.
Remove the beef and add the onions, garlic and spices to the pot. Add the tomato paste and stir, cooking until fragrant.
Add the beer and stir, loosening all the stuck-on bits from the bottom of the pot.This is where the rich flavor comes from! Reduce the liquid by half.
Return the beef to the pot and add the beef broth and canned tomatoes. Cover and reduce the temperature to low.  Simmer for 1 hour, or until the beef is tender and the sauce has been reduced.  If desired, add hot sauce to desired level of heat.
Serve with sour cream, fresh diced onion, cilantro and a lime wedge.
Enjoy!
Ingredients:
4 tbsp. Canola or vegetable oil
8 each No Name Brand Original Steaks, defrosted and diced into small pieces (2 packages)
1 medium yellow onion, diced
1 small green pepper, diced
4 cloves garlic, minced
2 tbsp. chili powder
2 tbsp. smoked paprika
1 tbsp. ground cumin
1 tsp. ground black pepper
1 – 6oz. can tomato paste
1 – 12oz. can lager style beer
1 – 12 oz. can beef broth
2 – 14 oz. cans diced tomatoes with chiles
Optional:   
A few dashes of your favorite hot sauce, to your level of comfort
sour cream
fresh, diced onion
cilantro
lime wedges