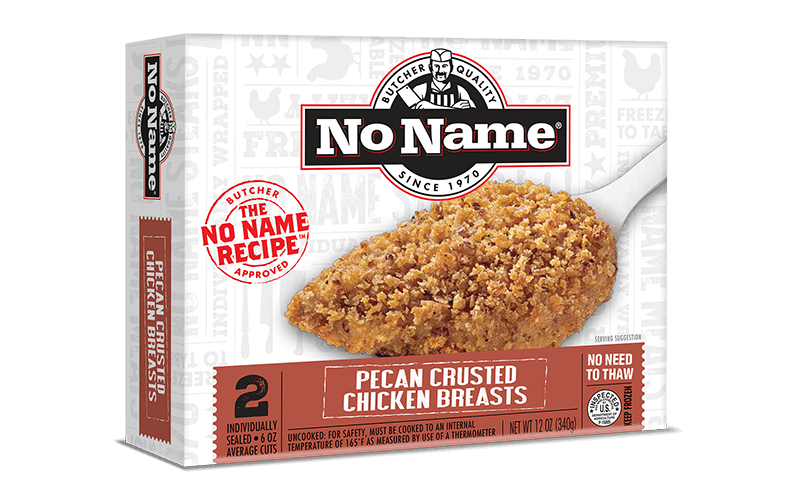 No Name® Pecan Crusted Chicken Breast
We take our boneless, skinless chicken breasts, coat them in a mild, flavorful mustard sauce and dip them in a layer of finely chopped pecans and toasted bread crumbs. This rich, crisp, nutty chicken will elevate everything on your plate.
Where to buy
Pecan Chicken
INGREDIENTS: CHICKEN, PECAN BREADING: WHEAT FLOUR, PECANS (MAY CONTAIN PEANUTS AND/OR OTHER TREE NUTS), SALT, SUGAR, SPICES, YEAST, PAPRIKA, CANOLA OIL, SOYBEAN OIL (AS A PROCESSING AID) BUTTER BUDS OIL: (CANOLA OIL, DIJON MUSTARD [WATER, VINEGAR, MUSTARD SEED, SALT, WHITE WINE, FRUIT PECTIN, CITRIC ACID, TARTARIC ACID, SUGAR, SPICE], NATURAL BUTTER FLAVOR [WHEY SOLIDS, ENZYME-MODIFIED BUTTER, MALTODEXTRIN, SALT, DEHYDRATED BUTTER, GUAR GUM, ANNATO & TURMERIC (FOR COLOR)], DIJON MUSTARD POWDER [DEHYDRATED DIJON MUSTARD (DISTILLED VINEGAR, MUSTARD SEED, SALT, WHITE WINE, CITRIC ACID, TARTARIC ACID, SPICES), MALTODEXTRIN, MODIFIED FOOD STARCH, SILICON DIOXIDE, NATURAL FLAVOR], SALT).
CONTAINS MILK, TREE NUTS, WHEAT.
GENERAL
Preheat on MED/HIGH
Remove from plastic wrap
Grill on Medium Heat

Keep the grill lid closed
FLIP AT LEAST ONCE
Defrosted: 14-16 minutes
Frozen: 21-23 minutes
BAKE
Remove chicken from plastic.
Cook according to times below.
Defrosted: 22-24 minutes
Frozen: 31-33 minutes
Cook until internal temperature of 165˚F as measured by use of a thermometer.
Since grill brands vary, cooking times may need to be adjusted. Always defrost product in the refrigerator. Do not place cooked product on the plate that held the raw product. Turn product with tongs or a spatula. Piercing product with a fork results in loss of flavorful juices.