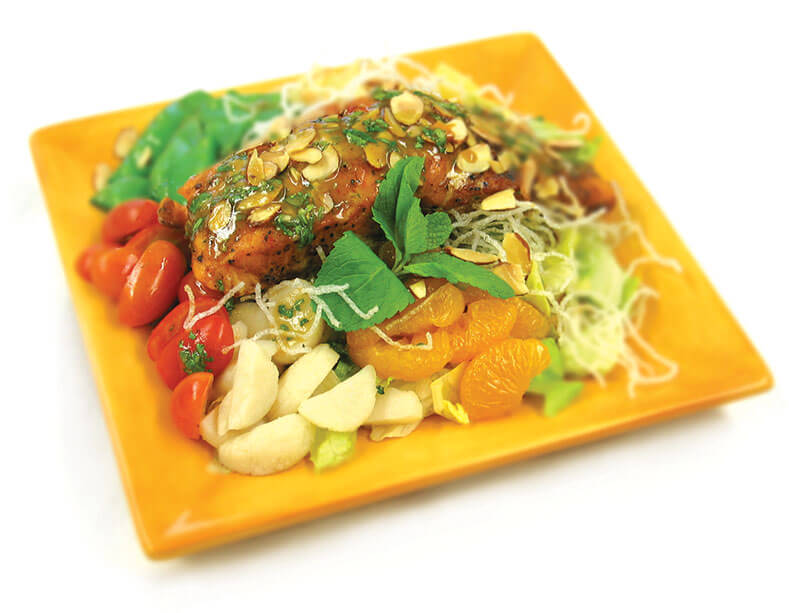 No Name® Salmon Salad with Cilantro Chili Dressing
Cooking Directions:
Blend all dressing/glaze items together.
Pour 1 tbsp. of the dressing over the No Name® Original Salmon & bake according to package directions.
Place chopped salad greens on a plate. Lightly coat the greens with ½ of the dressing. Arrange the pea pods, oranges, pineapple, water chestnuts and tomatoes around the outside edge of the salad.
Place the rice noodles on top of the greens in the center of the salad. Place the cooked salmon on top of the rice noodles.
Top with toasted almonds and chopped mint.
Pour the remainder of the dressing over the salad and serve.
Ingredients:
1 fillet No Name® Original Salmon
Dressing/Glaze:
1 tbsp. Olive Oil
1 tbsp. Lime Juice – fresh
1 tbsp. Honey
1 tbsp. Dijon Mustard
1 tbsp. Hoisin Sauce
1 tsp. Jalapeno – finely diced
2 tbsp. Cilantro – chopped
1 tsp. Shallots – finely diced
Salad Ingredients:
3 oz. Chopped Salad Greens
½ tsp. Mint – finely chopped
1 oz. Pea Pods – blanched
2 oz. Mandarin Oranges – approx. 10 pieces
2 oz. Pineapple – diced, approx. 7 pieces
1 oz. Sliced Water Chestnuts – approx. 8-9 pieces
1 oz. Grape Tomatoes – 5 ea.
¼ oz. Almonds – toasted, approx 1½ Tbls.
½ oz. Fried Rice Noodles